Deprecated
: Function eregi() is deprecated in
/home/joshhutc/public_html/cutenews/inc/functions.inc.php
on line
20
Deprecated
: Function eregi() is deprecated in
/home/joshhutc/public_html/cutenews/show_news.php
on line
41
Deprecated
: Function eregi() is deprecated in
/home/joshhutc/public_html/cutenews/inc/shows.inc.php
on line
54
Deprecated
: Function eregi() is deprecated in
/home/joshhutc/public_html/cutenews/inc/shows.inc.php
on line
54
Deprecated
: Function eregi() is deprecated in
/home/joshhutc/public_html/cutenews/inc/shows.inc.php
on line
54
Deprecated
: Function eregi() is deprecated in
/home/joshhutc/public_html/cutenews/inc/shows.inc.php
on line
54
<< Previous Next >>
Deprecated
: Function eregi() is deprecated in
/home/joshhutc/public_html/cutenews/show_news.php
on line
41
Deprecated
: Function eregi() is deprecated in
/home/joshhutc/public_html/cutenews/inc/shows.inc.php
on line
54
Deprecated
: Function eregi() is deprecated in
/home/joshhutc/public_html/cutenews/inc/shows.inc.php
on line
54
Deprecated
: Function eregi() is deprecated in
/home/joshhutc/public_html/cutenews/inc/shows.inc.php
on line
54
Deprecated
: Function eregi() is deprecated in
/home/joshhutc/public_html/cutenews/inc/shows.inc.php
on line
54
A Bunch of Pictures Added to Gallery!
Hey everyone! I have just added a bunch of pics to the gallery! Check them out :)
Journey 2 Paris Premiere
Journey 2 LA Premiere
Stills from Jimmy Kimmel
At the Airport in Paris
Behind the Scenes (Elle Photoshoot)
Picture Credit:
JHutcherson.net
Josh Hutcherson Back on Twitter?
Josh Hutcherson returns to twitter after almost a year and a half. He tweets from Paris and has changed his profile picture. Let's hope that he continues to tweet and it wasn't just a spur of the moment thing!!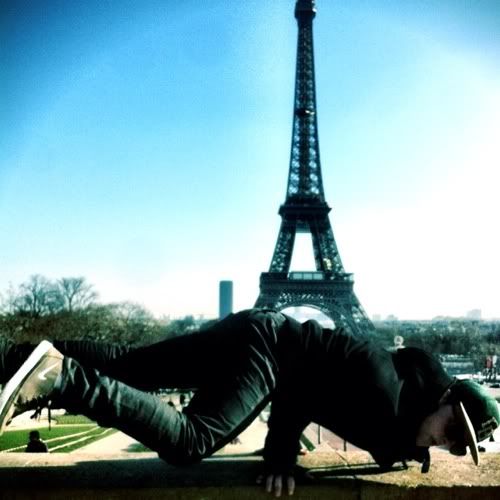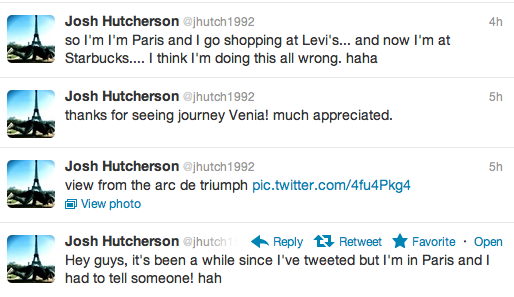 Josh Hutcherson on Jimmy Kimmel Live Videos

For anyone who might have missed it last night, check out these videos of Josh on Jimmy Kimmel last night!

Part 1:




Part 2:






Josh Hutcherson on Ellen: Full Video!

Fun Facts About Josh Hutcherson!
Josh Hutcherson was here to tell Ellen about two upcoming films he's starring in -- "Journey 2" and "The Hunger Games"! While he was here, we were able to find out some fun facts about him. Check it out!

Josh was born October 22nd, 1992 in Union, Kentucky. The population of Union is 5,379, which means Josh has approximately 30 Twitter followers for every 1 person in his home town.

His mom works for Delta Airlines and his dad works for the Environmental Protection Agency.

He used to have a blanket called "Yellow Blankie" that he carried with him everywhere. He didn't say when he gave it up, but we're guessing it must be at least a year or two ago.

He has two dogs named Diesel and Nixon.

Josh was in the movie "The Kids Are Alright." He's also a big supporter of the organization "Straight But Not Narrow." You can see his YouTube video about it right here!

He's a charming and friendly guy, and we all enjoyed his visit to the show. Let's hope he comes back real soon!
Source:
Ellen
via
HG Girl on Fire
Josh Hutcherson: Behind the Scenes of 'Elle' Photoshoot
Josh Hutcherson: I'm a Big Romantic
There's no doubt Josh Hutcherson is a teen heartthrob and he's set to make the gals swoon even more. The actor, who will be playing Peeta in the upcoming Hunger Games franchise, recently opened up to Elle about his dating life, revealing he's a huge romantic.

"I'm a big romantic, traditional cheesy guy," he admits. "I'm all about going to the beach under the stars. That's a real date. But other than that, dinner and a movie is classy." Aww!

Josh seems pretty preoccupied with work though, focusing on his career and preparing for the March 23 release of Hunger Games. He opened up about his role, revealing: "I read all three books in five days… I've never read a character I've connected with more—I am Peeta."

Director Gary Ross weighed in, revealing Josh had a certain spark that made him stand out from fellow actors who auditioned for the role of Peeta. "He's so unbelievably charming," says Ross. "When he auditioned, Suzanne Collins and I looked at each other. We'd both been knocked out."

Although Josh is a star in his own right, the actor reveals he really looks up to Ryan Gosling and hopes to work with him one day.

"I'm a big fan of Ryan Gosling as an actor because of his subtleties and how he internalizes a lot of the emotions. For me, that's kind of my style, so he's definitely a big person I look up to," Josh said.
Source:
Celebuzz
Win Two Tickets to The Hunger Games Premiere!
MAY THE ODDS BE EVER IN YOUR FAVOR
Cambio is giving away a trip for two to Los Angeles to attend the world premiere of The Hunger Games next month. You'll also get to visit Cambio's Hollywood studio for a day, watch us tape a celebrity interview and chronicle your experience in a blog entry published on Cambio.com. For a chance to win, just fill out the form below. May the odds be ever in your favor!

Learn about the advance ticketing date and RSVP now on The Hunger Game's Facebook page.
Head over to
Cambio's
site to enter!
Thanks Jessica for sending this to us!
Josh Hutcherson on Ellen (LQ)
Josh Hutchersn Interview with Teen Hollywood
Wish you could hear the waves crashing on the beach at the beautiful Kahala Resort on Oahu. Josh, dressed casually in a polo shirt and jeans, and I are on the balcony outside a suite on a perfect, sunny Hawaiian day.

Our biggest impression? This is a young man who can handle whatever his career throws at him; whether it's sitting on an anthill in the jungle.. Ouch! or fighting the case of nerves that potential mega-stardom could cause when The Hunger Games hits screens next month.

We've interviewed Josh several times before and watched the kid actor turn into a cute 19-year-old young adult.

TeenHollywood: You've grown up in showbiz. Was it easy and natural for you to make the transition from kid to young adult actor?
Josh: I've always wanted to choose my roles carefully because of that. When I first started acting I was in love with it. I knew I wanted to do it all my life so making that transition from a child star into an adult actor has always been on my mind.
I think it's just happened naturally over the years as I've gotten older. My work has spoken for itself and I've been able to do movies like The Kids are All Right, that kind of aged me up a little bit. I think that was one of the bigger ones that pushed me into a different category.

TeenHollywood: It's been a while since you did Journey to the Center of the Earth. Was doing this one like going back?
Josh: No. There was such a gap between the two films so it was like an entirely different movie.

TeenHollywood: Vanessa told us that she was creeped out by the big centipedes where you filmed this in the Hawaiian jungle. You?
Josh: Well, the bugs were a little much at times especially when you're sitting there and all of a sudden there's an ant "Oh my gosh I'm on an anthill" with nine million ants crawling all over you.

TeenHollywood: Ewww. That tattoo on your wrist was in the movie. Did you do that for the movie or already have it?
Josh: No. I got this done when I was 16 or so. It's a Libra sign and I'm a Libra and so are some family members as well. Family is a big part of my life. [We used it] because Sean is sort of this adventurous guy who has gone around and travelled around a bit so we decided to keep it but for The Hunger Games, we covered it up every day.

TeenHollywood: Let's get to the good stuff. What is your pet peeve on a date?
Josh: Checking your phone a lot is a big pet peeve of mind. "Am I not interesting? Am I boring or what?" I'm not very into technology. I'm not on the internet that much. I'm not all over twitter or Facebook so I'm very analog. I prefer a date to be more analog [old school technologically].

TeenHollywood: When you start looking for "the one" to hook up with forever, what is a major quality you will demand?
Josh: Funny! I think it's really important for somebody to be funny. Humor is a big device in my life for everything. When I'm embarrassed, I try to be funny or when I'm sad I try to use humor so I think somebody who gets that and also kind of operates in that way.

TeenHollywood: What was the toughest thing for you about doing this film?
Josh: Working in the [big water] tank was tough. Dwayne and I were actually down there for an hour without coming up to the surface once. Everybody else had scuba gear on. We'd do the take with one breath then blindly fumble over to the little hooka thing and get some air. That was challenging. You're like "I don't have a breathing apparatus and I'm not meant to be underwater this long. This is kind of strange".

TeenHollywood: Did you meet Vanessa before you started filming?
Josh: I'd met her a couple of random times at events but I'd never talked to her so, the first time we ever really hung out was at the chemistry read in L.A. We read over some scenes and it was great. We hit it off. We're both really fun, outgoing people and don't care what we look like when we're having our fun.

TeenHollywood: What surprised you about Vanessa? Be nice cuz she said nice things about you!
Josh: [laughs] What surprised me about Vanessa is you see a lot of leading ladies in Hollywood who tend to take themselves very seriously and listen to their press and Vanessa doesn't. She doesn't take herself seriously…in a good way so that was nice to see and very refreshing.

TeenHollywood: Are you ready for the huge fan excitement that The Hunger Games may launch for you?
Josh: It's tough to prepare for things that Vanessa and people in Twilight have gone through. Obviously if you have that kind of fan support, they like the movie and that's why I make movies is for people to like them. Therefore, if people act that way, it means they like the movies which is good.
Read more after the jump!
Source:
Teen Hollywood