Deprecated
: Function eregi() is deprecated in
/home/joshhutc/public_html/cutenews/inc/functions.inc.php
on line
20
Deprecated
: Function eregi() is deprecated in
/home/joshhutc/public_html/cutenews/show_news.php
on line
41
Deprecated
: Function eregi() is deprecated in
/home/joshhutc/public_html/cutenews/inc/shows.inc.php
on line
54
Deprecated
: Function eregi() is deprecated in
/home/joshhutc/public_html/cutenews/inc/shows.inc.php
on line
54
Deprecated
: Function eregi() is deprecated in
/home/joshhutc/public_html/cutenews/inc/shows.inc.php
on line
54
Deprecated
: Function eregi() is deprecated in
/home/joshhutc/public_html/cutenews/inc/shows.inc.php
on line
54
<< Previous Next >>
Deprecated
: Function eregi() is deprecated in
/home/joshhutc/public_html/cutenews/show_news.php
on line
41
Deprecated
: Function eregi() is deprecated in
/home/joshhutc/public_html/cutenews/inc/shows.inc.php
on line
54
Deprecated
: Function eregi() is deprecated in
/home/joshhutc/public_html/cutenews/inc/shows.inc.php
on line
54
Deprecated
: Function eregi() is deprecated in
/home/joshhutc/public_html/cutenews/inc/shows.inc.php
on line
54
Deprecated
: Function eregi() is deprecated in
/home/joshhutc/public_html/cutenews/inc/shows.inc.php
on line
54
Hunger Games interview with Josh Hutcherson
This is the official "Hunger Games" interview with Josh Hutcherson. There has been tons of Hunger Games news today and we have seen and heard just about everything these actors have to say. Still, this is a nice five minute interview with Hutcherson and he breaks down everything and anything Hunger Games. If you're a fan, you will love this.
Source:
Around the Networks
via
@Sneak_Peeks
Beyond District 12: The Stars of The Hunger Games Contest Winner!
Congratulations to @hayleytrinca for winning the copy of Beyond District 12: The Stars of the Hunger Games! And thanks to everyone who entered! :)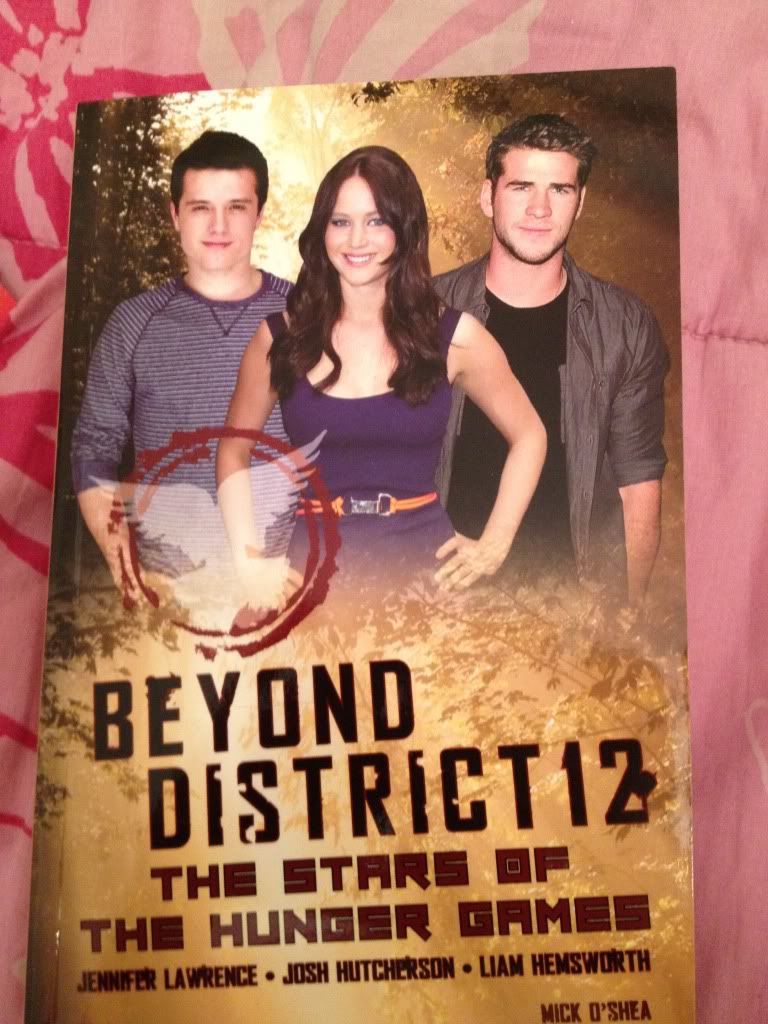 Beyond District 12: The Stars of The Hunger Games Giveaway!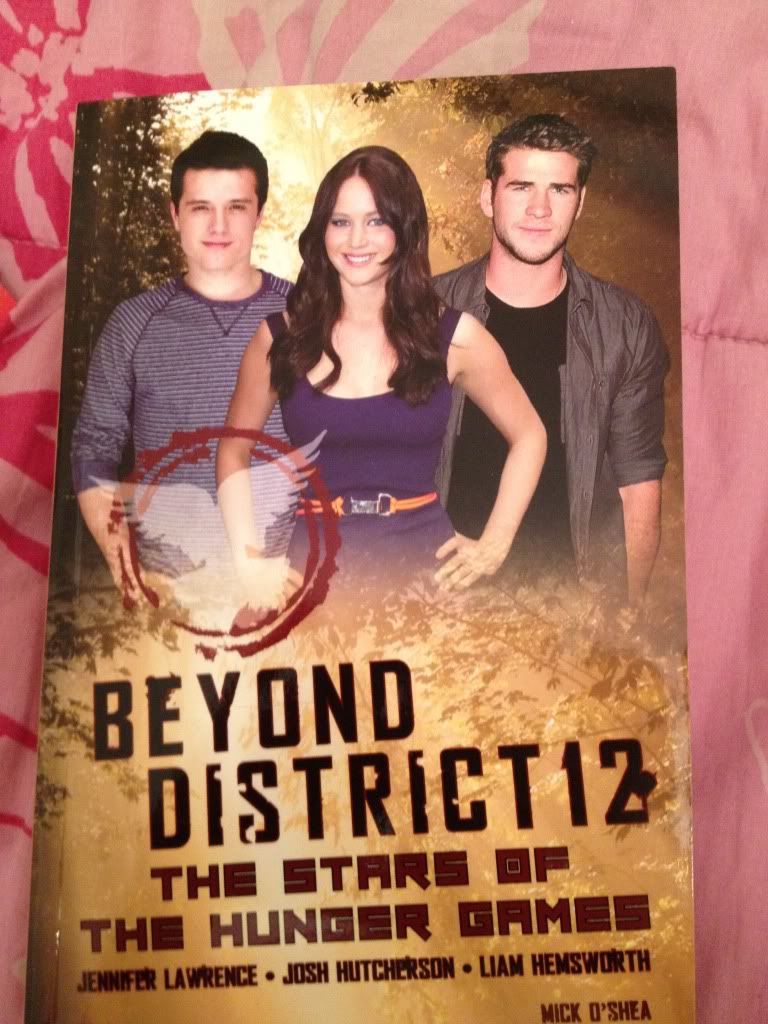 Hey everyone! Thanks to Plexus Publishing, I have an advanced copy of the book 'Beyond District 12: The Stars of The Hunger Games' to giveaway to one lucky fan! :)
Entering the contest is very simple! Just send the following form via e-mail to this address: giveaways@joshhutchersonfan.net
Full Name:
E-mail:
Please answer the following question:
Josh acted as Executive Producer on one of his recent movies - which one?
Are you following @JHutcherson_Fan on twitter?
If yes, what's your twitter handle?
You will get one entry for answering the question correctly and a second entry if you are also following the twitter account! Please only enter the giveaway once. Multiple entries will be deleted. I will use a random generator in order to pick the winner. If you win, you must be willing to send me your address so I can mail the book to you! Please send questions to admin@joshhutchersonfan.net
The contest ends at 11:59 pm EST on Thursday, March 1st. Good luck and may the odds be ever in your favor!
Message from Admin!
Hey everyone! I just wanted to apologize for the lack of updates over the past two weeks! My life suddenly got super busy and I haven't had much time! Next week is spring break though, so I should have time soon to update more! :)

Also, keep an eye out! I will be posting a contest/giveaway most likely tomorrow! :)

Thanks for your patience!

Katie


A Bunch of Pictures Added to Gallery!
Hey everyone! I have just added a bunch of pics to the gallery! Check them out :)
Journey 2 Paris Premiere
Journey 2 LA Premiere
Stills from Jimmy Kimmel
At the Airport in Paris
Behind the Scenes (Elle Photoshoot)
Picture Credit:
JHutcherson.net
Josh Hutcherson Back on Twitter?
Josh Hutcherson returns to twitter after almost a year and a half. He tweets from Paris and has changed his profile picture. Let's hope that he continues to tweet and it wasn't just a spur of the moment thing!!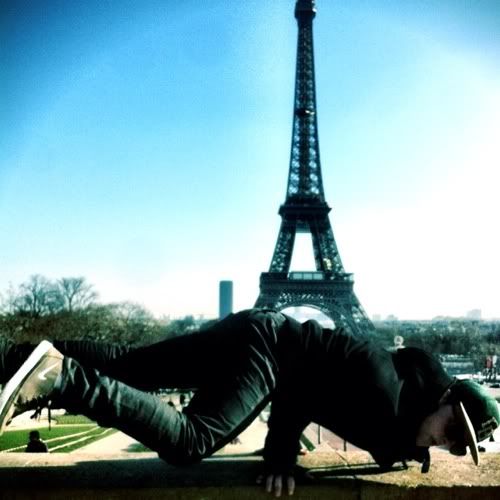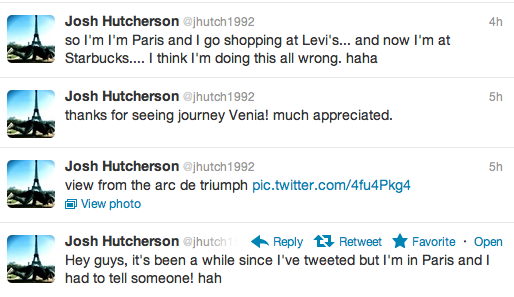 Josh Hutcherson on Jimmy Kimmel Live Videos

For anyone who might have missed it last night, check out these videos of Josh on Jimmy Kimmel last night!

Part 1:




Part 2:






Josh Hutcherson on Ellen: Full Video!

Fun Facts About Josh Hutcherson!
Josh Hutcherson was here to tell Ellen about two upcoming films he's starring in -- "Journey 2" and "The Hunger Games"! While he was here, we were able to find out some fun facts about him. Check it out!

Josh was born October 22nd, 1992 in Union, Kentucky. The population of Union is 5,379, which means Josh has approximately 30 Twitter followers for every 1 person in his home town.

His mom works for Delta Airlines and his dad works for the Environmental Protection Agency.

He used to have a blanket called "Yellow Blankie" that he carried with him everywhere. He didn't say when he gave it up, but we're guessing it must be at least a year or two ago.

He has two dogs named Diesel and Nixon.

Josh was in the movie "The Kids Are Alright." He's also a big supporter of the organization "Straight But Not Narrow." You can see his YouTube video about it right here!

He's a charming and friendly guy, and we all enjoyed his visit to the show. Let's hope he comes back real soon!
Source:
Ellen
via
HG Girl on Fire
Josh Hutcherson: Behind the Scenes of 'Elle' Photoshoot