Deprecated
: Function eregi() is deprecated in
/home/joshhutc/public_html/cutenews/inc/functions.inc.php
on line
20
Deprecated
: Function eregi() is deprecated in
/home/joshhutc/public_html/cutenews/show_news.php
on line
41
Deprecated
: Function eregi() is deprecated in
/home/joshhutc/public_html/cutenews/inc/shows.inc.php
on line
54
Deprecated
: Function eregi() is deprecated in
/home/joshhutc/public_html/cutenews/inc/shows.inc.php
on line
54
Deprecated
: Function eregi() is deprecated in
/home/joshhutc/public_html/cutenews/inc/shows.inc.php
on line
54
Deprecated
: Function eregi() is deprecated in
/home/joshhutc/public_html/cutenews/inc/shows.inc.php
on line
54
<< Previous Next >>
Deprecated
: Function eregi() is deprecated in
/home/joshhutc/public_html/cutenews/show_news.php
on line
41
Deprecated
: Function eregi() is deprecated in
/home/joshhutc/public_html/cutenews/inc/shows.inc.php
on line
54
Deprecated
: Function eregi() is deprecated in
/home/joshhutc/public_html/cutenews/inc/shows.inc.php
on line
54
Deprecated
: Function eregi() is deprecated in
/home/joshhutc/public_html/cutenews/inc/shows.inc.php
on line
54
Deprecated
: Function eregi() is deprecated in
/home/joshhutc/public_html/cutenews/inc/shows.inc.php
on line
54
Beyonce Knowles, Josh Hutcherson Among Stars Lending Their Voices To Animated Feature 'Epic'
Beyonce Knowles is ready to get back to the silver screen — sort of.

Deadline is reporting that the 30-year-old singer will lead an all star cast in the upcoming animated feature, Epic. Though the 30-year-old "Love on Top" singer is not stranger to the big screen — she's starred in films such as 2003′s Goldmember and 2006′s Dreamgirls — this will be the first time she has voiced a character in an animated film.

Besides 19-year-old Hunger Games star Josh Hutcherson, who are some other stars who are attached to the project?

Horrible Bosses' Colin Farrell, Mean Girls actress Amanda Seyfried and, in an interesting twist, American Idol judge and Aerosmith rocker Steven Tyler will all voice characters in the animated film which will hit theaters on May 24, 2013. What exactly is the movie all about? According to Deadline:

"It is described as a battle deep in the forest between the forces of good and evil. When a teenaged girl finds herself magically transported into this secret universe, she must band together with a rag-tag team of fun and whimsical characters to save that world, which in turn saves the real world."

Since giving birth to her first child with hubby Jay-Z, 42, in January — the adorable little Blue Ivy — BK has slowly been getting back to work. For instance, over the past weekend, Knowles performed her first post-baby concert in Atlantic City, N.J., where even first lady Michelle Obama attended!
Source:
Celebuzz
New Josh Hutcherson Movie 'The Forger' to be Released on DVD on July 3rd!
I was just looking at Amazon and I found that this movie will be released on July 3rd on DVD. You can pre-order it now
HERE
. This movie was previously title Carmel-by-the-sea.
Who plans on getting it?? :)
The Hunger Games' Josh Hutcherson on Peeta's Secret Strength
One of the most interesting aspects of The Hunger Games is the simple fact that the lead character is not only female, but an exceptionally strong one. She can hold her own in a fight and is an exceptional archer, she's passionate about the people in her life that she cares for, and doesn't let anybody use her. As a result, however, the lead male characters in the story, particularly Peeta, seems weaker by comparison. But if you ask Josh Hutcherson, Peeta has his own kind of strength.

Prior to the film's release I had the chance to sit down one-on-one with Hutcherson, and in addition to discussing the alpha female vs. beta male aspect of the film, he discussed looking to the other books in the series to inform his character, handling the phenomenon and stepping into Suzanne Collins' science-fiction universe.

It's kind of a big question to start, but I have to ask: are you ready for this?

I don't think there's any way to get ready for it. I'm just taking it day by day and it's exciting, you know? To be part of something so highly anticipated, and it's the first time for me and I'm very passionate about the story and the movie. I just saw the movie last weekend and that just reassured me of this whole thing and I loved it. I'm very proud to be a part of it.

How have the mall tours been going?

It was crazy. There were 2,000 people there – I think there were 1,000 there four hours before we were going to get there. So it was incredible for me to see that kind of support. And as an actor your goal is to be successful and with success comes notoriety in this business. And it's kind of weird because in my mind I never really put two and two together somehow. I just wanted to become successful, I didn't realize that that came with it at the same time. So it's a whole different side of it. It's fun and it's exciting and it's very, very, very different.

Is it strange that you're still three weeks out from release are you're already seeing this incredible surge?

It is weird. When we first started shooting there was 8 million copies of the book and now there's 20 something million copies of the book, so it's grown so much since we first started. But yeah, the saga has been building for so long and now we're ready for it to come out.

To talk a bit about Peeta, 20 years ago if you there had been a movie like this made it would have featured a male lead and female supporting characters. But here it's the alpha female, beta male. I was hoping you could talk a bit about that perspective.

I think Peeta's strong in his own way. That's something that myself and Gary Ross and Suzanne Collins talked about often was making sure Peeta works cinematically and by that I mean I think he has a little bit more backbone. In the book he's a great character, but obviously can come across as a little soft sometimes and I think that cinematically he's much more interesting because he has a bit more backbone. So I think that a few scenes in the cave scene with Jennifer we really wanted to add in a little bit more strength to his character and instead of being kind of sappy with it he's coming from a place of, "I could die, I need to tell you how I feel about this." Katniss is such a strong character and the story is obviously told from her perspective, so I think that anybody who is a strong woman can relate to that, and strong women can be with a strong man and it works out that way. But it is different and that could be why it's so important to people because it's something that they haven't seen before.

He's such a raw, emotional character, he says exactly how he feels, he actually talks about how his parents think of him and Katniss and it's refreshing to see a male character that's that open.

Yeah, typically it's supposed to be "the man," and "I don't cry." And it's cool for me because I'm a lot like Peeta in that way. I'm very open with how I talk about things and talking to people and my emotions, I really connect with him on that level, especially.

At what stage did you really click with the character? Was it in the audition process or was it while you were on set?

I clicked with him when I read the book. For me, as soon as I read it and I saw how much he was like me in certain ways and he had the same kind of constitution as a person, I connected with that instantly. As far as me rousing out how big a deal this whole thing was, that whole thing didn't connect until I was on set. I was standing there and the first scene that I shot was actually the scene where Peeta throws the bread to Katniss – and that's an amazing way to start off a shoot, by the way – I was standing there and then they called action and the rain's pouring and I have a loaf of bread and I'm in my apron and everything and I look over and there's Katniss leaning u- against a tree and I was like ," Oh my god, this is actually happening." [laughs] To that point it was really too surreal to believe.

To talk about being in that environment, I have to imagine that being in a science-fiction film is really something else because you're actually inhabiting a completely different world. Particularly having read the books where you only have your imagination, what is it like stepping into, for example, the Capitol and seeing it all brought to life?

It's pretty cool to see it realized. It's one of those things where everybody has their own kind of idea of what it looks like in their minds and to finally see it out in front of you is incredible. I thought the same thing about the characters. When I saw Woody [Harrelson] transform into Haymitch, Elizabeth [Banks] transform into Effie… it was just incredible to see those kinds of characters come to life.

I was talking with Elizabeth Banks earlier and she had an answer to this question and I'm curious what yours is. Can you take the events of the next two books in the series and use them to inform how Peeta acts in the first story?

Honestly, not really because as the story happens, those things haven't happened yet in that world, so therefore if I was trying to bring in elements from the second and third books beside the ones that are already built in, with foreshadowing and what not, it might kind of ruin the performance and make it so we can see into the future, kind of. For me, I like to take it at the same pace as the characters.

That in mind, how much were you able to add your own flavor to the character? Obviously fans are so passionate about Peeta on the page, but some things just can't work for the movie. Were you able to kind of move into it?

Yeah, definitely. Gary was very open to us bringing elements of ourselves to the roles, which I think is great. I love having a collaborative environment on set and Gary is very collaborative and extremely smart, and while I had my ideas and everything I 100% trusted Gary. Every time that I had a question about something I'd go to him and trust him with all my heart. But we had some freedom to move around.

I was also hoping you could talk about the audition process for this part. When it was up for grabs Peeta was one of the most in demand parts for young male actors in Hollywood. How intense was it sitting outside that room?

It was really intense. I never really, nowhere near wanted a part as much as this and if I didn't get it I would have lost my mind [laughs]. So it's a good thing I did. The audition itself was the kind of normal process, I came in and auditioned twice, once with Gary and Suzanne and again with Jennifer and Gary. And it was actually fun because Liam [Hemsworth] and I had the exact same audition schedule. I went in the first time and saw him in the waiting room and then again when I came back to read with Jennifer so it was pretty cool.

And what was it like working with Jennifer, because obviously you have to have the chemistry or it doesn't work.

It was great. Jen is amazing, we hit it off right away. I met her a couple times before hand and we were from the same place in understanding what that world's like and she's a very real person. She's very genuine and says what she believes and what she thinks and that's what I admire in a person.

Source:
Cinema News
Interview: The Hunger Games Uncensored
Thanks Mattie for sending this in! :)


Trailer for 7 Days in Havana
Interview: The Hunger Games' Josh Hutcherson
One of the many good things about The Hunger Games (released 23rd March) is the character of Peeta Mellark, and the performance of Josh Hutcherson.

Gary Ross' powerful adaptation of the dystopian novels by author Suzanne Collins stars Jennifer Lawrence as Katniss Everdeen, a poverty-stricken teen forced to fight to the death in a post-war America split into 12 industrial districts. The Hunger Games of the title have been held annually for the last 74 years, as a way for the totalitarian Capitol to manipulate the poor workers. Every year in a blood-freezing "reaping", a boy and a girl are picked by lottery to represent their district as "tributes", with the 24 children forced to kill each other in televised games. When Katniss volunteers to save her 12-year-old sister, she's partnered with Peeta (Hutcherson), knowing only one of them may survive.

As Katniss begins an epic tale of courage, sacrifice and defiance in the dangerous forest the games are held in, she and Peeta become both the manipulator and the manipulated. Read our review here.

DIY met up with Hutcherson in his London hotel back in February for an intimate round table interview. The 19-year-old former child actor is a movie veteran, so seems completely at ease with the impending madness of life as a franchise star. He recently made an impression as the son of Annette Bening and Julianne Moore in The Kids Are All Right, and we're really hoping his comedy-horror Detention makes it over here after wowing FrightFest attendees.


When we meet the relaxed and friendly Hutcherson he's marvelling at the "hustling and bustling" streets of London, laughing as he didn't realise everyone walked so much in the UK. We settle down for a chat about hanging out with co-star Woody Harrelson, auditioning in front of Collins herself and seeing his face in newsstands.

Did you read the books before you got the script?
With these books I read them when I heard they were making the movies, as I hadn't heard of them until that point. I found out they were wildly popular among all ages. I read the whole series in a week, and I couldn't put it down. As soon as you finish each book you have to pick up the next one or you'll go crazy! It's like crack! I read so many scripts - that's my main literature that I read. When I'm not reading scripts I like to read books about psychology and sociology and non-fiction.

How involved was Suzanne Collins in the making of the film?
She was very involved. It was great actually, as she was in the first audition that I had, which was mildly traumatising. To walk into the room and see the author of the book! She gave me a call when I got the part, saying 'if there's anything you need, here's my cell phone, my home number, my email, just let me know'. She's so sweet and she was on set a bunch. It was great to have her there, as it felt it gave the fans a sense of calm to know they weren't just giving it to Hollywood to make whatever version they want. She was great at making us not feel intimidated, she was aware of it. She knows we are actors who make our own interpretation of it, said she can't wait to see what we do with it. Like, excited to see it move into the next medium. She was on board to make little adjustments to make it the best movie possible. She offered herself up for any questions, but the [character] was all in the books. I've never read a character in my life who I've felt was so much who I am as a person, and stood for the same things I stood for. When I was reading it, I thought how has Suzanne written a book that is who I am. Everything about Peeta I believe in 100%.

Before signing on, did you think about the Twilight thing, and how your life could become like theirs?
I didn't think about that when I signed on. For me, the reason I do movies is because I love acting and playing different roles. When I read these books, I connected with Peeta on so many levels, and what I believe in is what he believes in. I would've died if I had not gotten to play this role. That didn't enter my mind until after the fact: 'oh wow, there's that too...' It's exciting to have that support from fans.

What was Gary Ross like as a director?
He's a brilliant human being, an incredible director and writer. He's so specific in what he wants, and I'm a very specific actor who likes to ask a million questions about every little detail. So to use the same language was fantastic. We're so lucky to have him direct this and the next movies as well. I can't even describe how much I love him.

Is it fair to say that there won't be any sugar-coating of the brutality, and it will be quite violent?
It has to be, as it's part of the essence of the books, capturing how brutal it is. One of the big points of the story is that these kids are forced to be in these situations. It was tough though to find that balance between staying true to the book and the essence of the brutality and alienating the audience with gory visual things. You have to make it for a huge audience. One the reasons Gary Ross was hired is because he knew how to make it work in all aspects.

If you were entered into the Games, how good would you be at surviving?
I'm a modest person, I swear to God, but I think I'd be really good in The Hunger Games, as I'm a very outdoorsy person. I love the wilderness, I grew up playing in the woods, camping and hiking. I'm fast, I play sports, I've done fighting training - I think I'll be all right! I might have a good chance of survival. My downfall would be the Careers, who are trained to kill. They have a disconnect when it comes to killing people, so that would be my biggest problem. I would try to survive as long as possible without having that face-to-face conflict.

What was the hardest thing you filmed?
SPOILER The fight scene at the end of the movie with Cato and Katniss, that was one of the tougher scenes to shoot, physically. We shot it at night, and it was a three-night shoot. We had this whole fight choreographed and it was so hot and humid we were sweating so much, so it was really physically challenging. END SPOILER

What was your favourite scene to film?
SPOILER Probably the scenes between Katniss and Peeta in the cave. It's the moment when... the whole time Katniss is questioning whether she can trust Peeta, and Peeta's been, all of his life, not telling Katniss how he feels. And that moment when he's in a fever delirium on his deathbed he finally admits to her how he feels, and she finally is able to trust him, and as an actor that's the big turning point for the character, so that was really fun to play. Even as a reader, that was my favourite part to read, it was like 'Yes! He finally said it!' END SPOILER

Are fans going to be split into Team Peeta and Team Gale [Katniss' childhood friend]?
They want to make it out to be a bit of a rivalry between Peeta and Gale, but it's really not. With Peeta, what I love about him so much is that he's very true to himself the whole time, and believes in maintaining himself as a person no matter what he's faced with. So I think that would be my big push for why people should be Team Peeta!

How was the atmosphere on set, with all the fellow tributes?
It was great. One of my favourite things about acting is getting to interact with really cool people. Everyone they cast in the movie I love so much. The tributes were incredible. It was strange to go from a scene where you have to be terrified of them, and then be hey, what's up, high five, let's go get some lunch.

Were you at all starstruck by the big names in the cast, such as Donald Sutherland and Woody Harrelson?
These are people I've looked up to my whole life, and now they're working with me, and being in movies I'm in - it's incredible. Woody Harrelson, out of all the cast members in the movie, is the one whose movies I've seen the most - White Men Can't Jump is one of my favourite mvoies ever. Working with him was an honour, and now we text and talk all the time. He's actually a friend of mine! He's not just Woody Harrelson, he's my friend! How is this even possible, that's amazing!

Jennifer Lawrence sings Rue's lullaby in the film - how's her voice?
I haven't seen it! I haven't seen the movie and I wasn't there when they shot that. She likes to play down her singing skills, and will say she's a horrible singer and hated having to sing. But I've heard her sing a little bit and she's not a bad singer at all. I think she did a great job. [On whether he would sing 'Safe and Sound'] No, and thank God, as I cannot sing at all! I'm quite happy that that never arose.

Peeta's a baker - if we came round to your house, what would you cook for us?
I can bake! I can make a really good French apple pie with crumbles on top. I'm more a grill kind of guy when it comes to the main course. If I was going to make a fancy dinner, it would be steak or chicken, but if it was a barbecue it would be burgers.

Do you get embarrassed seeing your face on newsstands?
For me the most embarrassing part is when my friends are like, 'look what I have!' It's one of those things that's very cool to have that sort of recognition. But at the same time it's kind of embarrassing and kind of surreal. You see yourself in a magazine and say, oh I remember doing that shoot! You don't realise it's a national publication that millions of people read. One of my best friends is Avan Jogia, who's an actor on TV, and I've been friends with him for five years. My roommate Andre isn't in the industry. He owns a marketing company that does charities, and we're best friends and hang out all the time.

Did fans of the book show up on the set of The Hunger Games?
Lionsgate were so tight when it came to security on location. When we walked from our trailers to set, or to our cars, they built like barricades so people couldn't see the costumes. One time we were in North Carolina, and it was the weekend, and I got into the hotel lobby and there were two girls who had driven nine hours on the chance I would be there. They had a bunch of stuff for me to sign and everything. They have their ways! All that pressure was washed away as soon as I got on set as I started acting, and doing what I loved. When I was in in New York City for the premiere release of the trailer on Good Morning America, one of the fans had made me a hand-knitted scarf, and gave it to me out of nowhere. It was one of the nicest things a fan has ever given me, for free!

Can you remember when you first realised you wanted to be an actor?
I honestly dreaded doing school plays. I hated it so much, not because I had stage fright, but because I thought the subjects were cheesy. They were like 1950s shoo-bop showaddy waddy and it made me mad. One time I was doing a grandparents day show at elementary school when I was probably eight years old. They wanted me to sing these horrible '50s songs, and I was okay, fine I'll just go up there and mouth the words 'watermelon' over and over again and pretend you're singing. So I went up there and mouthed 'watermelon, watermelon, watermelon' all angry and pissed off. Afterwards, my grandmother came up and asked 'were you singing watermelon up there?' I loved entertaining people and my family, but I never wanted to do it in a school play. My first movie was Miracle Dogs for Animal Planet, which was about these dogs who could lick people and heal them. I loved doing it, and thought, if they keep on hiring me, I'll keep on doing this. They have, thankfully.

Have you treated yourself to anything special since earning?
Once I started making money, my biggest goal was to start taking care of my family. So as soon I was able to do that I got them a nice house. They gave me everything I have today, and all the tools I have as an actor came from my parents and brother and they keep me very humble. He kicks me right down! They are my number one thing in life.
Source:
DIY
Josh Hutcherson sings Mario Theme Song
Josh Hutcherson Talks Hunger Games Sequel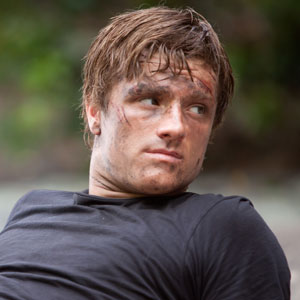 Josh Hutcherson is a busy man. A busy man who, from the sounds of it, scarcely has time to enjoy the fruits of his Hunger Games success. Why? Because he's already got an eye toward the sequel!

Peeta himself chatted with E!'s own Ryan Seacrest this morning and shared his thoughts on the film's runaway box-office success; the status of the highly anticipated sequel, Catching Fire; and what words he and costar Jennifer Lawrence have shared since the movie's crazy opening…

But not before taking a moment to bask in the success.

"It's crazy, we were pushing it so hard and we worked really hard to film it and we obviously had high hopes, but nothing like this," he told the KIIS-FM host during a radio chat this morning. "It's beyond my wildest dreams."

So far, he's been relatively sheltered from the more effusive fans, as he spent the past week at home in Kentucky.

"I just got back to Los Angeles, I haven't had much interaction with humans yet. I'm curious what that's going to be like," he said.

We're guessing nothing like the low-key exchange he shared with Jennifer.

When asked if he had been able to speak to his costars in the wake of the film's release, Hutcherson said, "Yeah, but we haven't talked about the opening.

"I texted Jennifer about basketball…the only conversation we've had is about the Final Four. We talk about the movie so much, we don't have time to do that with each other."

Meanwhile, Hutcherson also opened up about the second installment of author Suzanne Collins' YA trilogy, Catching Fire, and said he's looking forward to the "unspoken tension" between Peeta and Gale, played by Liam Hemsworth.

He said that the screenwriter, Slumdog Millionaire's Simon Beaufoy, has only just begun working on the script, and that together with director Gary Ross and Collins, they're not expecting the turnaround time to be too long.

"They have a release date already of November of next year, probably start shooting end of summer, beginning of fall," he told Seacrest.

Can't wait!
Source:
E! Online
Josh Hutcherson on Conan
Full Interview with Josh on David Letterman!